Welcome to Velocified!  We're glad you came.
One of the most underused strategies in performance development is creating a Talent Acceleration Strategy for key positions to ramp up growth and improve business results.
At Velocified our core expertise is creating dynamic performance paths that take people to full productivity in an entire job 30-50%* faster. (*avg result)
To achieve this we use a proven world class methodology, the Learning Paths Methodology (we are a licensed international provider and exclusive provider in Canada) to deliver robust measurable business results. 
The goal and impact of our work is simple -- to deliver high impact business improvement within a short time - namely via increased profits and KPI metrics. 
This creates cost savings (often in the 6 figures or $M's) for mid-sized to large firms that comprise our clients across many industries. Cost savings are immediately recoverable from budgets already being spent, just less efficiently. 
In fact, while fancy leadership development programs and business transformation tend to attract ready budgets, the payoffs and returns from speeding up position-based performance are often ignored.  
Because faster development happens on the job, while people are doing business, training and development costs and time are often reduced 10x - 20x!!! This is more effective than the digital learning strategies many companies rely on to keep their skills and capabilities up to date. 
Velocified Paths achieve two things. They either get new hires up to speed faster (and enable under-fill hiring if fully qualified staff are not available) Or they get your entire team or position to a higher performance level sooner.
In the end it's about people. The sooner they are skilled and performing, the sooner rewards result. For you increased profit, engagement and retention levels; For them confidence, skills and earlier access to deserved pay increases and promotions. 
Being a preferred talent destination is desirable for every company today. It's where the cool kids and skilled grown ups want to be.
Learn about Talent Acceleration Strategies To Ramp Up Growth in this Webinar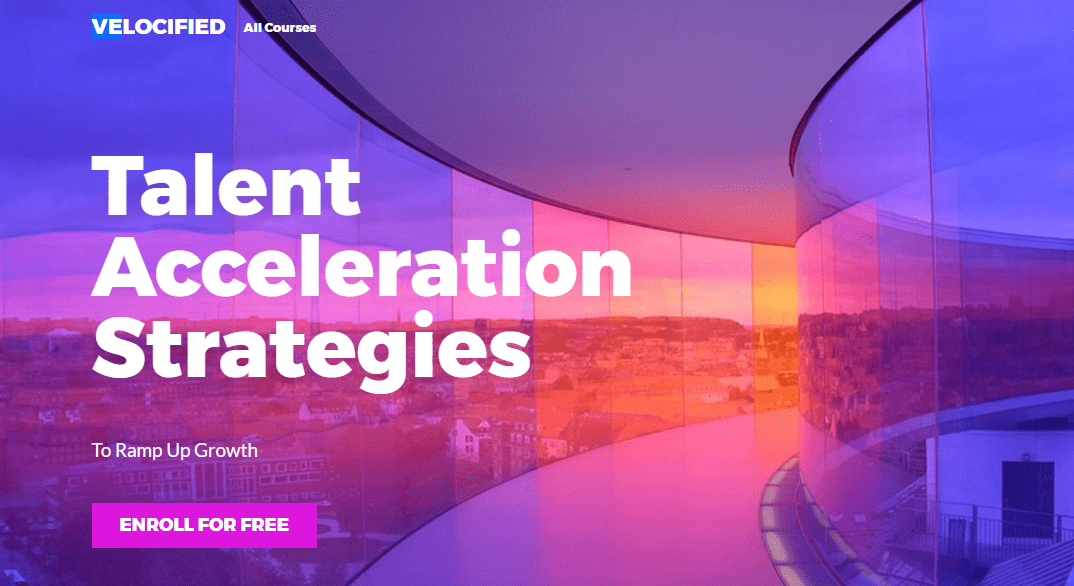 Massive changes in talent management are making the implementation of Talent Acceleration Strategies a wise choice.
These changes create a big impact on staffing and people processes, but also bring risks for business capability and continuity.
This Webinar will give you a firm grounding in what you need to know and how your company or organization can respond to the new agile marketplace.
Watch this trend setting 60-minute webinar replay with Velocified CEO Arupa Tesolin now & learn:
1.) The Four Big Challenges facing enterprises today
2.) How to Define the Talent Acceleration Challenge
3.) 3 Tactical Strategies to Implement Now
4.) Tools to Quantify the Business & People Impact of Talent Acceleration
This webinar was recently delivered at Human Capital Media, publisher of Chief Learning Officer, Workplace & Talent Economy

SPEED UP YOUR PATH TO RESULTS
905 271 7272 support-at-velocified.com
http://velocified.com

© Copyright 2017  All rights reserved.